A Team Approach
We surround you with an entire team dedicated to your comfort and recovery. Within our centers, our board-certified radiation oncologists lead a highly trained staff. We have full-time, board-certified medical physicists and dosimetrists who work closely with our physicians to ensure optimal treatment planning and delivery. Our therapists are certified by the American Registry of Radiological Technologists in Radiation Therapy. Our physicians work close with your other doctors for optimal communication and coordinated delivery of your care.
Accreditation
Tacoma/Valley Radiation Oncology Centers are accredited by the American College of Radiation Oncology. Receiving national accreditation indicates our facilities and services have undergone extensive evaluation.
Our Services
The following patient guide information is provided to help men and women who have been diagnosed with cancer – and their family and friends – at a time when they are deciding which type of treatment is best for them
This is inevitably an emotional and stressful time. It is important to have the advice and support of your healthcare team, together with all the information you require. This can give you confidence that you are in control and making the best choices available to you.
Tacoma/Valley Radiation Oncology Centers provide radiation treatment including:
3-Dimensional Radiation Therapy
IGRT – Image Guided Radiation Therapy
IMRT – Intensity Modulated Radiation Therapy
3-D Conformal Therapy
Total body irradiation
Stereotactic Radiosurgery
Leksell Gamma Knife
Linac-BasedStereotactic Radiosurgery
SBRT – Stereotactic Body Radiation Therapy
Brachytherapy (Radioactive Implant)
HDR – High Dose Rate Brachytherapy
Breast – SAVI®
Prostate Implants
Interstitial Implants
Gynecologic Implants
Bronchial Brachytherapy
Hyperthermia (Thermotherapy)
Radionuclides
Effective Treatment Planning Services
Complementing our high-tech treatment planning equipment, the advanced training and hands-on experience of our gifted medical staff ensure that our patients receive the best treatment planning services available. Our physicians may opt to facilitate individual treatment plans using technologies including: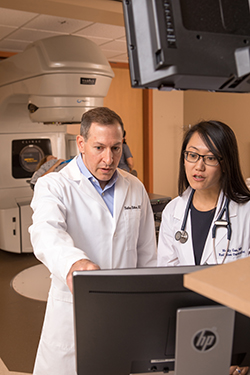 3-D Computer Generated Treatment Planning Services
SMART-ARC – Simultaneous Modulated Accelerated Radiation Therapy
Consolidated Beam Sequencing
Dedicated CT Scanners
Research and Training
Because our physicians participate in many clinical trials, our patients have access to the very newest medical developments and treatment options. We are also active partners in the Bellevue College Associates Programs for radiation therapists. Students may participate in our care, under the guidance of a board-certified therapist. If you do not wish to have a student participate in your care, please advise your physician or therapist.